Karen Arbutine's Testimonials | RE/MAX Central Realtor | Orlando, FL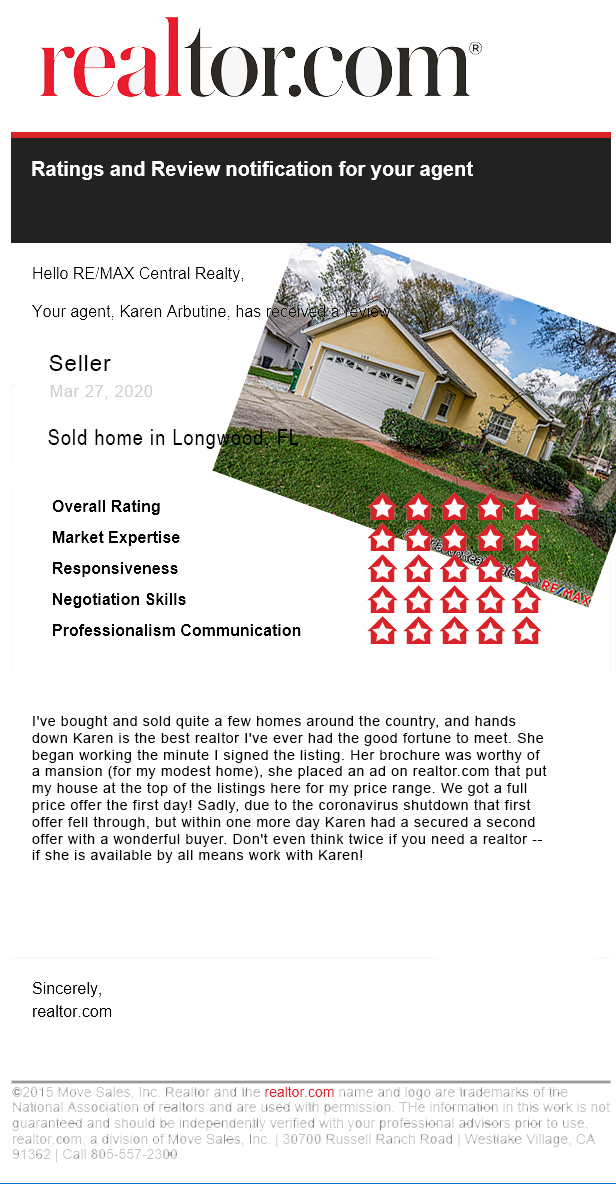 I've bought and sold quite a few homes around the country, and hands down Karen is the best realtor I've ever had the good fortune to meet. She began working the minute I signed the listing. Her brochure was worthy of a mansion (for my modest home), she placed an ad on realtor.com that put my house at the top of the listings here for my price range. We got a full price offer the first day! Sadly, due to the coronavirus shutdown that first offer fell through, but within one more day Karen had a secured a second offer with a wonderful buyer. Don't even think twice if you need a realtor -- if she is available by all means work with Karen!
https://www.realtor.com/realestateagents/Karen-Arbutine_Lake-Mary_FL_386092_993529837
Sandra Eisengerg
Longwood, FL
---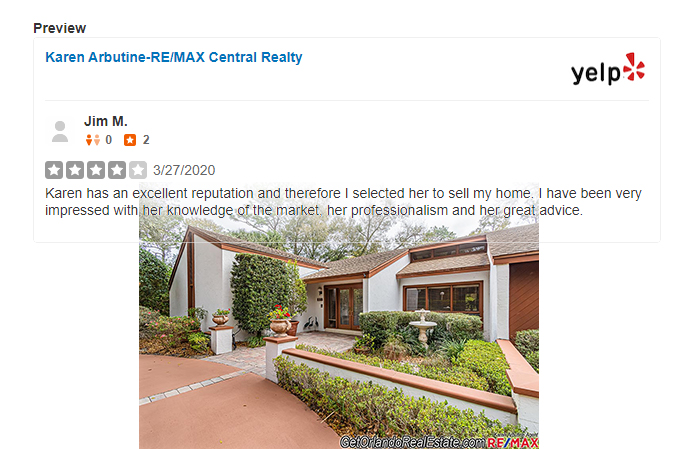 Karen has an excellent reputation and therefore I selected her to sell my home. I have been very impressed with her knowledge of the market, her professionalism and her great advice.
Jim Marcan
Longwood, FL
Read Jim M.'s review of Karen Arbutine-RE/MAX Central Realty on Yelp
---
Very satisfied seller. Karen went the extra mile to move this property. Being remote, we really appreciated her follow-up and follow through communication and moving everything forward in a professional way.
https://www.realtor.com/realestateagents/Karen-Arbutine_Lake-Mary_FL_386092_993529837
Andy Smith
Lake Mary, FL
---
Karen is by far the best Real estate agent we've ever worked with. Karen has helped us buy 2 houses in the last 2.5 years since moving to Orlando from Australia. She helped us with every step along the way & trusting all her advice really paid off- she sure knows what she's talking about! Highly recommend Karen for anyone looking to buy or sell!
Read On Google
Noelle Muri
Longwood, FL
---
I would highly recommend when looking for a realtor, Karen Arbutine from Remax. Karen is reliable, trustworthy and competent to get the sale completed. Her knowledge, skills and many years of experience as a Realtor in the Orlando area truly makes the whole process of selling your home go extremely smooth.
The buyer was a first time home buyer with many questions and concerns on how to qualify to purchase my home. With Karen's knowledge and the team of people she worked to get the buyer qualified to be able to purchase my home with no stress was a blessing for both me and the new home owner.
When needing to work with a realtor that is there every step of the way, I say give Karen a call for a successful transaction.
I will definitely use Karen in the future for future real estate sales/purchase.
Read On Google
Barbara Clutter
Clermont, FL
---
Karen did an outstanding job in getting us a buyer for our home in Longwood. She work hard and smart at it, her marketing is very good, and fully cooperated with our requests, such as frequent open houses, and being present for all showings. She is hard working and detailed. She has no issues with co-brocking. Karen was our third agent and far superior to the other two

Attilio Di Marco
Longwood, FL
---
Karen is a spectacular realtor. She is honest, reliable, and extremely knowledgeable. For future endeavors, I would not even consider using anyone else for buying or listing my home.
Read on Yelp
Kristen Aloisantoni
Sanford, FL
---
I have only bought and sold in New York. When my mother needed to sell her house in Florida, I looked for a real estate agent in moms neighborhood. I found Karen Arbutine from Remax and once I read her reviews, I thought I would reach out to Karen. Her expertise, guidance, and resources were second to none. Karen gave such an amazing personal service and honesty that made my mom very comfortable and without any issues on moms side. I would highly recommend Karen to anyone looking to buy or sell a home in Florida.
https://www.zillow.com/profile/Karen-Arbutine/#reviews
Investacop
Lake Mary, FL
---
Karen sold my house the first weekend it was listed! She is a professional, knows the market and did an amazing job from start to finish. You will enjoy working with Karen. I highly recommend her to anyone seeking a truly professional Realtor
https://www.realtor.com/realestateagents/Karen-Arbutine_Lake-Mary_FL_386092_993529837
Glenn Sottardi
Debary, FL
---
Karen was always available to answer any questions that I had. Her suggestions on things to make the house more presentable were right on. I totally enjoyed working with her.
https://www.zillow.com/profile/Karen-Arbutine/#reviews
Ron Kotkiewicz
Sanford, FL
---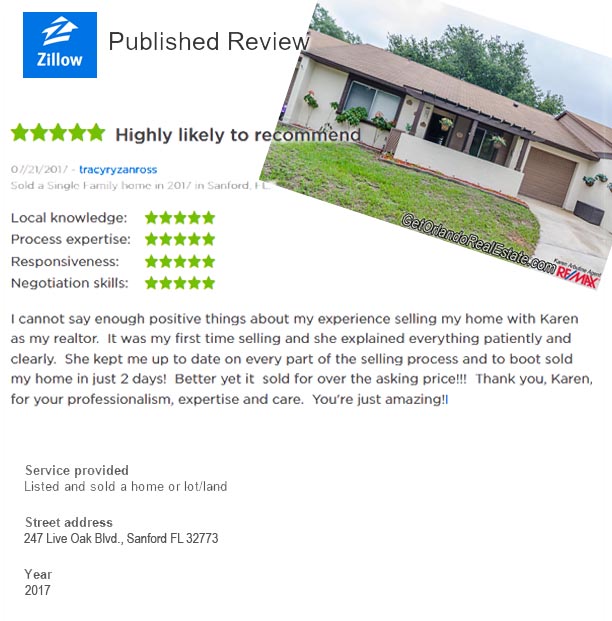 I cannot say enough positive things about my experience selling my home with Karen as my realtor. It was my first time selling and she explained everything patiently and clearly. She kept me up to date on every part of the selling process and to boot sold my home in just 2 days! Better yet it sold for over the asking price!!! Thank you, Karen, for your professionalism, expertise and care. You're just amazing!
https://www.zillow.com/profile/Karen-Arbutine/#reviews
Tracy Ross
Sanford, FL
---
Great and professional. Easy to work with and answers your questions before you can ask them!
https://www.google.com/maps/place/RE%2FMAX+Central+Realty:+Karen+F.+Arbutine
Diriki Geuka
Sanford, FL
---
Karen is a thoughtful, very smart, and professional realtor. She was very efficient and successful at showcasing our home and ensuring a smooth sale. She helped us navigate negotiation with buyers fairly without pushing or pulling us too much, but also being honest about her opinion. I would recommend Karen to any friend or family.
https://www.zillow.com/profile/Karen-Arbutine/#reviews
Katie Good
Longwood, FL
---
Karen was excellent to work with. She actually helped myself and a business partner sell two homes in the Central Florida area for above our internal/unofficial appraisal. She is very professional and is easy to work with. We can't give a higher recommendation. Karen is one of the best professionals, not just realtors, that I have ever worked with.
https://www.zillow.com/profile/Karen-Arbutine/#reviews
Felisa Geuka
Sanford, FL
---
Karen recently listed my home in the Alaqua subdivision. The sale is now imminent As I was out of town when the house was up for sale, Karen was constantly available to help me keep my home in sale ready condition. From the time of our first meeting through the last minute details of the sale, she patiently and thoroughly explained each step of the process The brochure she had prepared when the house first went up for sale was impressive and widely distributed. The online pictures, descriptions, and placement presented my house in a way that would be extremely attractive to buyers. Karen actively and effectively promoted the features of my home to prospective buyers prospective buyers and always called me afterwards to discuss the outcome. Her attention to detail is remarkable. I highly recommend her! She does a superior job!
https://www.zillow.com/profile/Karen-Arbutine/#reviews
Catherine Bauer
Longwood, FL
---
I finally find a real estate agent that didn't just want to "list" my house and then hope someone else would sell it. I had listed my house with another agent and only had a few showings a month for 7 months. Karen listed our house and sold it in 30 days. A proactive marketing plan that brought viewers to the listing on-line was key. My previous agent was getting us 15 views or less a day on Zillow and Karen's strategy had us at 130 a day consistently. She showed up at every showing, even doing double duty for the buyer's agent at times. A great experience from start to finish!
Eric Reinhold
Longwood, FL
---
My experience with Karen in both the sale of my home and the purchase of my new townhome was great. Karen's expertise and experience saved me money that I would have lost had I listened to the so called "neighborhood professional" that wanted to list my home for $30,000 less than what it sold for. Karen's marketing was amazing. Her attention to detailed and her availability to answer my questions made me very comfortable in what should have been a stressful experience. I actually enjoyed the process and had some laughs with Karen who I now consider a friend. I can recommend Karen without reservation.
Dawn
---
Karen put the "P" in professionalism. Simply put: she is the best. Karen takes the time to get to know her clients and real understand their needs. She only shows homes that are in the target zone and she provides honest, candid feedback on the market. We highly recommend her for your real estate needs
Mark and Margie Guthrie
---
I recently had the pleasure of working closely with Karen Arbutine at ReMax Realty on the sale of my home. Her marketing techniques included all the latest in technology to let potential buyers from anywhere view my home and to express their interest in a showing. Karen did all the showings herself and took great pains to make sure my home was picture perfect as buyers came to visit. In a matter of weeks we had a contract on the property and a closing date. The whole process was very professional and time sensitive for all parties. I would strongly recommend Karen to anyone looking to sell or buy a home! Awesome job! Thank you Karen!
Shawn Donahue
---
Karen was attentive from the very first meeting. She listened to my needs and concerns and gently guided me to be a part of her Success Team. She put together a package, cleared it with me and then executed a sales presentation that brought immediate success. My 28 year old home with lots of upgrades and a fresh polish sold in two days at a above market price! Thank you Karen, I couldn't have done it with out you.
Cecilia Guice
---
Karen is real knowledgeable & trustworthy real estate agent and this is justified that by the fact I have done repeated business with her for all my buy & sale real estate transactions for over ten years. No of transactions over six amounting over 1.5 million dollars and each one of them I feel was great!!!
Dev Jhurani
---
After researching various websites relating to realtor rating services, awards for realtors, accomplishments (sales and listings) as well as real estate companies, we interviewed four realtors for the listing of our home in Seminole County. Our choice was Karen Arbutine. We were not disappointed. Karen provided detailed, comprehensive marketing strategies with hands-on follow through. Our house sold the first week it was listed. Karen was in constant contact with us from the first day of listing to the presentation of the offer. And she stayed on top of all the procedures leading up to our closing. She gave full attention to all of our requests and questions and returned phone calls and text messages promptly. Karen gave us the feeling we were her only clients. We have highly recommended Karen to many friends and are confident she will meet all of their expectations. Karen Arbutine, a professional with an engaging personality and a personal touch. 
Tony & Kathy Gautsch
Orlando, FL
---

I hired Karen Arbutine to list my home as a short sale in Orlando, FL. Karen successfully closed my home as a short sale in 7 months. She negotiated with my bank Wells Fargo to relieve me of any funds due at close or in the future. I was elated that Karen also negotiated on my behalf and at closing I was presented a check from Wells Fargo for $4,000 in moving expenses! I was totally impressed with her tenacity and perseverance in putting my best interests first and closing my home successfully as well as awarding me extra money so my family and I could relocate.
John Roberts
Orlando, FL
---

We were recommended to Karen Arbutine from our friends at our local church. My wife and I interviewed her and hired her to sell our home in Windermere, FL. Karen's aggressive marketing efforts resulted in us received three full price offers which were all cash offers. To our surprise, Karen successfully closed our home three weeks later $6,800.00 over list price! We were also impressed with her enthusiastic, high – spirited approach in marketing & selling our home while working with her!
Dr. Lawrence and Olivia Michaels
Windermere, FL
---
Hi & Hello Karen Arbutine
With reference to the requirements of a testimonial from me, I am overjoyed to write the following. I have known Karen through my requirements of buying a property in Orlando/Florida/USA. Since then she has kept in touch with me for a very long time to date. Further, Karen has never ever missed me for saying hi & hello through her emails with the lovely photograph of her dog. I live in London/UK and I have reciprocated accordingly via emails. She has always asked me if she could be of any help to me in anyway and at anytime. Her approach has been always polite and to the purpose but in a civilised way and that is a big plus point in her favour. In real life people always forget once their purpose is served and achieved but my experience with Karen has been always positive and courteous and I salute her for that. I wish Karen my best wishes and good luck in her courier wherever she is trying to go and achieve whatever she wants out of real life. My best wishes and good luck for the future. Karen keep smiling and the world will shine & smile with you. All the success in future.
Yours sincerely
B L Mistry
---
Diligent professionals, fun, astute, alert, integrity, caring, savvy, honest, humble, kind and intelligent. These are the words which came to mind when asked to write a testimonial for Karen Arbutine with RE/MAX Central Realty. She has what it takes to help one find the right home. Many of her clients have become her friends, and those friends have become friends. She has not only built a great business, but a great community.
 
Lake Mary has many blessings, and Karen belongs among them. I am proud to be her client, friend and advocate. I would not make a move without her.
Jim and Mary Voss
The Villages, FL
---
Dear Karen
It was a pleasure working with you. I know you made every effort to sell my home quickly and you succeeded.
Daniel T. Cortez M.D. PhD
Winter Park, FL
---
Dear Karen
This is not the first time we have bought or sold property through you. Every time you delivered and you did it on time and within our terms. Once you sold a parcel of our in Windermere with one phone call.
 
This time was particularly emotional for us because our Winter Park house was our nest for almost 19 years. The only home our children had known and we wanted top dollar to make our move to New Jersey. With your impeccable track record we trusted you with the endeavor and you did it again! You set a new record price! We are elated.
 
I would not go anywhere else to seek advice on high-end luxury residential property in Winter Park, FL. Should we get tired of the grueling winters up north, you better believe you will be the first one to hear from us.
Dr. Josephine Castello
---
Someone told me once, "If you want to have the job done, right and fast, ask the busiest man." In the case of Karen Arbutine and her team, this adage can't be more correct. Yes, she's busy, but wouldn't you rather work with someone who is in demand than not ? Most critically, she and her team ALWAYS returned phone calls, text message and emails…..even when we weren't bringing to her what would be considered "an expensive house" for her to sell! I've worked with real estate professionals throughout the world and unfortunately, I've been disappointed by most real estate professionals in the greater Orlando area, even as recently as only four years ago, when we purchased our home in Keens Pointe, where the broker came with a long list of accolades, but with his nose stuck high up and acting as though he was doing us a favor, by him doing absolutely nothing (where even after closing, we suffered the consequence of his mistakes),….but….Karen and her Team truly have been a breath of fresh air and won the respect and the trust of both my wife and I.
I'm a busy professional and with my wife expecting with our third child, we didn't need another layer of stress in our lives. We truly couldn't have been happier with her professionalism and her always being available, when we were available. She doesn't sugar-coat the facts or try to buy your affections, but you can also talk to her, point blank. She knows her market and values.
Karen has tremendous connections and she doesn't play games with other agents or with your listing to try to drag out the sales and/or to maximize her commissions or waste clients time….AND….she will advise you to try to get you the best price you might be able to get. THAT is what we got from Karen!
Jon Painter III
Orlando, FL
---
This is the ultimate professional in her field, calm, experienced and perceptive. Karen Arbutine is lady, direct and honest. She didn't waste our time with salesmanship, she offered numerous resources and produced results. We are very pro-active people, we knew what we wanted to accomplish, but weren't sure how. Karen knew exactly what to do. We didn't feel rushed yet the outcome was immediate and beyond our expectations. She was always accessible and her staff is a seamless extension of her process. We're absolutely convinced that, given the same circumstances, any other broker would not have produced the same amazing outcome…not even close.
Norma and Samuel Rothsburger
---
Karen,
Thank you for all of your help in listing and selling my townhouse. I am convinced your efforts made all the difference. If I ever get a chance to refer any of my friends to you, you can be certain I will!
Patricia McClure
---
To Karen (RE/MAX Central Realty)
Jeff and I are truly very grateful with the successful outcome of our short sale. We are so blessed that Karen Arbutine with RE/MAX represented us.
Karen is really trustworthy, very efficient, and showed professionalism in each and every way. She truly cares for her clients and treated us like family. We received great support from her. As our realtor, Karen was very pleasant every step of the way, especially during the times when we had feelings of uncertainties about putting our home for sale as a short sale. We had so much doubt and insecurities in the beginning of the process but Karen was very patient and understanding.
Karen kept in constant contact with us and was very accessible... we didn't even really have to reach out frequently because she made the process easier by providing updates often and explaining to us thoroughly about the documents that were needed from us and informed us each step of the process.
Karen really protected all of our interests with the highest professional level. When an issue arose, we had a change of heart at one point, and my husband and I were debating on pulling our house off the market but she continued to provide support and sincerity helping us get through and always being our advocate.
All her efforts truly paid off because we had a smooth process and a successful short sale with a huge payout upon closing from our lender who Karen provided the short sale through!!!
Karen said, "it's the single largest payout I ever received for a client." WOW!! So, we are really lucky and thankful for her as our agent working with us and providing unconditional support. She is highly experienced and we really felt that confidence in her... we cannot recommend anyone else more highly!
Thank you we were blessed to have met you! Karen!
All the best!
Jeff & Nieva
Lake Mary, FL
---
"Karen is a very gracious, professional and knowledgeable realtor. Her ability to build rapport with buyers and sellers is a distinguishing characteristic. She is trustworthy and diligent in making her transactions come to fruition. I can recommend Karen without hesitation."

Top qualities: Great Results, High Integrity, Creative
John Stowe
---
I was immediately impressed with Karen Arbutine vast knowledge of the real estate market and her professionalism. She listened to me carefully, then patiently reviewed properties with me until we found something that suited my needs perfectly (which was no easy task). She was very diligent about keeping her eye out for homes that came on the market that were of possible interest to me, and was always very accessible during the entire process.
Karen is refreshingly honest and ethical. It is obvious that she truly enjoys her work and maintains the best interest of her clients at all times.
I will definitely use her again if the need ever arises or refer her to any of my colleges.
Dr. Klein
Windermere, FL
---
Karen Arbutine has been the most professional and caring real estate professional I have ever met. We have relocated several times due to job transfers and we have had dealings with many agents. None of them compare to Karen's compassion for the real estate business. She is incredibly knowledgeable of the Orlando market! She is honest and ethical and tells us the truth about what to expect and then delivers on those expectations. I would highly recommend her services to any family or individual that is in need of a top professional in real estate.
JoAnne Wynn
Orlando, FL
---
Karen,
Tom and I can not thank you enough for all the hard work, effort and time you put into selling our home in Lakewood at the Crossings in Lake Mary. You are a saint for maintaining your professionalism though all the emotional ups and downs we experienced during the past 3 months.
I tried to sell the home on my own and thought it would be fairly easy. Once I saw all that was involved in selling a home, I thought why do it alone, I should hire a professional realtor. Your name stood out as the top agent in Lake Mary as well as your outstanding reputation for selling homes quickly so I hired you. I am so glad I did. I had not idea how much work and effort it takes to sell in this market. You overcame all the issue with open permits, appraisal issue and home inspections! We so much appreciate your diligence and efforts! Please accept this gift card as a token of our appreciation in closing our sale.
May the Lord bless you in all that you do. You are an expert in the real estate field.
Charlotte and Tom Bonifacio
Lake Mary FL
---
"
My kids and I are delighted with our new home thanks to Karen Arbutine with RE/MAX. She was prompt, courteous, and professional during the process. Karen was able to both sell my existing home and assisted me in purchasing a new home in this very difficult market. She is both knowledgeable and honest and made both transactions simple and stress free. I was continually updated and guided as to how best to respond to any of the offers that were presented. She is focused and persistent with her clients and places their best interest first— a rare thing these days indeed. She goes above and beyond what is required in customer service and I can only give her the highest recommendations."
Dr. Steve Hochfelder
Lake Mary, FL
---
"Recently, we had the experience of putting our home of 37 years on the market. We interviewed four realtors with the intention of selecting the one with whom we felt very comfortable, and especially the one being the most aggressive in marketing. Without a doubt, we agreed that Karen Arbutine with RE/MAX Central Realty would be our agent. Within 4 months, our home was sold and Karen took us through every step making the process smooth, and basically trouble free. Karen is a person of her word, very hard working, organized, and considerate. She gave us time to ask questions and help us work through any situation that came up. Without hesitation, we will and have already recommended Karen to friends and anyone ready to sell their home in a difficult market."
Our best to you, Karen,
Kent & Pat Powers
Longwood, FL
---
My husband and I are elated with the service we received with you and Re/Max Central when you listed and sold our home in Alaqua. I knew of your incredible reputation and the fact you sold the home on the Street of Dreams in Longwood which was the most expensive home in the county!
I can not begin to adequately express my deep appreciation and gratitude for all that you did to help us in the selling process. You're very high level of experience, professionalism and in depth knowledge of the market were the reasons why we knew without a doubt that we wanted to work with you.
I am firmly convinced that we had the best representation from you Karen from the initial time we met you and listed until the closing. We knew you had our best interest at stake and continually showed us your true caring nature throughout the entire process. In the event we know of any friends and family who are planning on selling your name will be highly recommended.
Keep up the great work and fresh outlook, it is contagious!
Alexandria and Jeffrey Mills
Los Angles, CA
---
Thank you for the excellent follow up since our first home purchase! We are absolutely loving our home and neighborhood in Heathrow, FL.. We knew by hiring you your honesty and integrity would guide us through the buying process.
You were such a delight during the process. Josh and I knew that we could call you, and trust that you would do everything possible to assist us. The buying process was extremely fast and easy, and thank you for your diligence.
I would definitely recommend you to anyone who is seeking assistance during such an important time in their lives! We would love to have you over sometime to see what we have done thus far, so please let us know if you are in the area. We look forward to staying in touch with you down the road and referring any business to you that we encounter.
Thanks again for your professionalism and dedication!!
Sincerely,
Josh and Kelly Jamison
Heathrow, FL
---
We want to "thank you" for your kindness and sense of humor during a time when the "stress" of selling and buying a home in a short period of time was essential. We knew that when we called your phone you were always there for us. When we needed to have some repairs, inspections, and help with packing, you were able to secure the right people for the job very quickly and efficiently.
It is not very often that you find a realtor of this "quality" and we are so "happy" that you were referred to us by a co-worker that knew your neighbors who raved about you. Our 5lb. Yorkshire Terrier "Zoey" was happy to have you sit with her during the inspection of our home, we were very appreciative!
In closing, we would like to say that you went over and above in service and performance and Watson Realty has a "jewel" of a realtor working for them. Thank you for the "housewarming" gifts! We will be recommending you to anyone we know that needs a realtor or a friend!
God bless you!
Sincerely,
Ellen & Clive
Mt. Dora, FL
---
"Subsequent to deciding to sell my home of 22 years, I contacted Karen Arbutine of RE/MAX late in 2007. Early in 2008 we set up an appointment relating to listing and everything the process involves.

I actually had decided to give this agent my listing before our initial conference. Due to the agency being a prominent one in my area and other "words of mouth" I did not wish to be overly deliberative in this matter.

Karen met with me at home just before noon the first Monday in February. I figured that what she needed to share with me and then subsequently sign might involve 45 min. To an hour at most. Surprisingly, by the time everything was covered, it was around 2:30pm.

As the days went by, i realized that my confidence was enhanced in Karen & RE/MAX's ability to effectively market my house. I felt so not because they appeared to have any extraordinary, cosmic abilities that another firm lacked. It was due to one principal part of the process - Karen had chosen to spend a great deal of time with me during that 1st conference. Although I had stated my preference to RE/MAX, she nonetheless did not take my business for granted and chose to make sure I understood areas I didn't know existed.

As a result of Karen's easy going & unassuming manner, I had no doubt that this home selling venture would be one that provided desired objectives. A professional's ability to me is less important than character. It has been said that what one does "when no one is looking" speaks volumes. As she dealt with a "freshman" to this home selling venture, she made me no promises nor outlined specific projections.

Although my home had attractive features, it was not in an area where residences & styles were homogenous. If you also figure in the difficulty in selling a home (then, and still, now) it was remarkable that by Feb. 20th I had a signed acceptable contract from a buyer. Although a required contingency of the buyer selling his house did not materialize, later in May I received a verbal offer. Two weeks later, a 3rd legitimate offer did result in a closing in early August. Less than six months from listing to closing.

I believe that the most important aspect when you are a buyer or seller of a commodity is "comfortability". When one experiences that with the business world, nothing else matters. RE/MAX Central of Lake Mary and specifically, Karen Arbutine graduates with a masters in business interaction."

Charles W. Kamm
Cleveland, TN.
---
With sincere gratitude and respect, Tricia and I would like to thank you Karen for your commitment and professionalism in marketing the sale of our home.

There is no doubt that when choosing a real estate sales professional, choose carefully!   Finding the right person is as important as choosing the right tools for any job.  We found that "RIGHT" person in you!  When you came to our home to discus representing us your sincerity and prepared professionalism was evident.  Your honesty and positive attitude gave us the confidence to proceed with a plan to market and sell our home.   Working together and following your advice, we sold our home in a very short time.
We feel that beyond the professional association we have had with you, we have come to know a special person. Becoming acquainted with Roxy, and your brother and spending time with you and your friends, at your home, is all very special.
Sincerely,

Mike & Tricia Millard
Heathrow, FL
---
"Dear Karen,
I want to thank you for representing us in the sale of our home in Berington Club in Sanford.  Karen we have many wonderful things we would like to relay to you and your prospective clients in the future.
You are a person who is defined by her emphasis on the finer points.  That is because you are an accomplished real estate professional who understands that the best results come from paying attention to the subtleties others tend to overlook.  Whether you are taking the extra time to review the contracts to ensure all the T's are crossed and the I's dotted, calling with regular updates to keep us informed with the latest details or putting together a tailor-made marketing strategy for our home, you recognize that being mindful of the more intricate aspects of our ultimate success.
If you are planning to buy or sell a home in the Greater Orlando Area, I would definitely endorse Karen Arbutine.
Sincerely,"

The Wilkinson Family
Los Angles, CA
---
"We want to "thank you" for your kindness and sense of humor during a time when the "stress" of selling and buying a home in a short period of time was essential. We knew that when we called your phone you were always there for us. When we needed to have some repairs, inspections, and help with packing, you were able to secure the right people for the job very quickly and efficiently. 
It is not very often that you find a realtor of this "quality" and we are so "happy" that you were referred to us by a co-worker that knew your neighbors who raved about you.  Our 5lb. Yorkshire Terrier "Zoey" was happy to have you sit with her during the inspection of our home, we were very appreciative!
In closing, we would like to say that you went over and above in service and performance and Watson Realty has a "jewel" of a realtor working for them. Thank you for the "housewarming" gifts! We will be recommending you to anyone we know that needs a realtor or a friend!
God bless you!"

Sincerely,

Ellen & Clive
Mt. Dora, FL
---
Mr. Bennett:
I want to send a quick note of thanks to let you know how fantastic an agent Karen Arbutine is. I was introduced to Karen when we moved to the Sanford area with my wife and two kids. She assisted my wife and I in finding a home that suited all of our needs.
When an opportunity presented itself for us to move to Atlanta we called Karen to help us promote and sell our home in Sanford.  Karen made the process very simple for us due to her preparation and all it took was a few minutes of paperwork to complete the process and be on our way.  The home was professionally marketed with a thorough market analysis, all pictures and web home tours were immediately completed.  Open houses, agent tours and agent networking were a constant for Karen with promoting our home.
There were many homes for sale in our area at the time and Karen was very creative in how we could sell our home within the timeline we required.  Karen went above and beyond on many occasions to assist us with our pet and schedule a service call when our yard sprinkler was broken by the mowers.  Karen even assisted us with the coordination of our closing needs after we had moved to our new home which saved us a trip back.  She made sure we were completely satisfied with the process and we definitely are!!!

We appreciate everything Karen did to help us with our sale. We hope Karen receives the recognition by her peers and superiors at Watson Realty Corporation that she deserves for the extra effort and great example she sets in your company.

Best Regards,


Lee & Brandyn Kemper
Alpharetta GA
---
Good Afternoon Mr. Bennett,
My name is Anthony Mujie and I have had the good fortune to be represented by one of your agents, Karen Arbutine. I was fortunate to entertain a position with Wachovia Bank which required a move to New Jersey and had to sell my home in the Longwood Club, Longwood, FL. I found Ms. Arbutine by getting the home sale records from Bill White, the president of the Longwood Club Homeowners Association and reviewed Realtors who had the best per square foot sales.  Karen's name stood out and we interviewed her.  I wasn't all that certain because sometimes, as you well know, luck plays a part.  I soon got to understand that with Ms. Arbutine, luck plays a very small role.  She is bright, witty and has a passion for her job.  The feedback I received from my Relocation Department was that she was very professional and kept everyone informed each step of the way.  In a nutshell, Karen did a fabulous job.  She was a consummate professional, consistent in her strategy and persistent with every possible client, to attain a sale.  Even in the face of adversity, which we had our fair share, she was triumphant. She listed our home much higher then any other agents would even consider listing it for.  In the end, Karen sold our home for $5,000 over appraised value. Karen is an asset to your team and if she is representative of your cadre, you will enjoy a long and prosperous career.  My thanks to Watson for having her represent us.

Regards,
Anthony T. Mujic
Wachovia Bank
Atlantic Region Sales Director
---
"My husband Luke and I tend to have pretty high standards when it comes to the level of service we expect and the hiring of our realtor to sell our home was no different. When we first met Karen, we knew right away she would do whatever it took to exceed our expectations, and that's exactly what she did.  In an extremely tough market Karen was always on top of things and one step ahead of the game. We were most impressed by her honesty, integrity, and excellent communication throughout the process. I can't imagine how anyone could have done anything better then her! She is top notch!
We would recommend her to anyone buying or selling a home and is by far a true leader in the real estate industry."

Luke and Amy Lukasik
Palm Coast FL
---
Dear M. Moore:
In January, 2006, we met with Karen Arbutine to discuss the listing of our house in Lake Mary.  We had scheduled appointments with other realtors however, after meeting with Karen, we cancelled the other appointments.
Over 30 years my husband and I have bought and sold several homes plus, as a real estate advertising rep for 10 years, you could say we have qualified experience with real estate companies and associates.
Karen Arbutine is not "one of" but "the" finest associate we were privileged to work with. Her professionalism, knowledge, detail, follow-up, patience are all outstanding attributes, but Karen is more, so much more.
Karen takes the time to know and truly understand her clients. Her clients come first and she goes far beyond anyone's expectations.
There is something very special about Karen Arbutine and I hope you realize where a rare jewel you have representing your company.

Sincerely,

Kathryn E. Sedgwick
Huntersville, NC
---
Dear Sir of Madam:
It is with great joy that I take these few moments to share a few thoughts about my recent experience with your company. My experience started with the need to sell a property that I owned in the Lake Mary area. I contacted you company and was connected with Ms. Karen Arbutine. It did not take long for me to realize that Ms. Arbutine was not just another Real Estate agent.
As a Captain for a major commercial airline, I have traveled extensively and have interacted with many professionals around the world. I can truly say that the level of professionalism and care I received from Ms. Arbutine during the sale of my property was well above my highest expectations. I was contacted on a weekly basis and given an update even when there was no activity. Ms. Arbutine kept me informed and helped to alleviate any concerns that I had. I had a difficult time understanding how I could be made to feel as if I was her only client even though she had many others. I now understand how she achieved her "Multi-Million Dollar Producer" status with your company.
I look forward to calling on Ms. Arbutine for all of my future Real Estate needs.  I will also recommend her to my family and friends without any reservations. My experience with Ms. Arbutine has given me a new definition for the word "professional".
Sincerely,

Derrick Baxter
Oviedo, FL
---
When we decided to sell our house, we contacted Karen Arbutine. We had received many mailings from her, and felt she could help us.
It was, without doubt, the smartest thing we could have done.  Her energy, knowledge and caring have made this transaction, not only an outstanding success; but we have at all times, felt totally important to her and cared for by her.
We recommend to anyone buying or selling property, that she will get the job done in the best possible way, in the shortest possible time at a fantastic price!
Thank you Karen.

Sincerely,

Fran & Henry Rosenttal
Sanford, FL
---
Dear Karen,
I want to thank you for all you have done in helping us sell our home.  After being listed with a discount brokerage for 3 months and no offers we were blessed to have found you.  You bring a new meaning to a real estate professional.
From the moment my husband and I met you, we knew you were the person who would not only meet our needs, but exceed them! Your selfless behavior toward your clients shows. I have known many agents in real estate in the past.  It has been my opinion they look out for themselves and focus on the money they are making.  You are a true, caring person who puts her client's needs first.
We are elated with the contract and closing price of our home.  Keep up the outstanding work ethic and positive attitude.
Regards,

Mary and Bob Hill
Heathrow, Florida
---
Dear Mr. Watson,
I wanted to write directly to you regarding the outstanding service provided to me by Karen Arbutine and Watson Realty. I have purchased several homes in the past and without a doubt she is the best Realtor I have ever had the pleasure to work with.
Recently, we had decided to build a new home and had plenty of time to sell our old home; therefore we decided to market it ourselves.  This route did not work very well and we seemed to be tied to the house and we were at the call of potential buyers who just had to see the house now, never came back or sometimes never turned up.  In the end, we decided to list the home with a discount broker who was more established in the market.  Well, needless to say they did not make me a penny!  In fact, we had plenty of showings, but not one offer and no feedback from the agent.  Karen had been sending mail to me and she even knocked on our door to introduce herself well before we had decided to sell.  We never had an agent do that before.  She had also shown the house at least two or three times.  She was well known in the area and had sold more homes in the subdivision than any other agent.  We were realty short on time and decided to terminate the second discount broker.  This was becoming a pattern.
We listed the home with Karen and the full service she had talked about really meant full service. She adjusted the price to the correct market value and the sign was up within one day.  Karen provided color flyers outside and fantastic color brochures for the inside with details regarding the house and the local area. We have never seen that sort of thing with the other agents.  She had the house in the MLS and on many Web Sites immediately. She then brought her whole office across to preview the home.  WOW!!! We could not believe it Karen had so many people who know about the house it was great.
We had been on the market about six months with our other agents.  Karen had a contract on the house in 10 days and at almost full price with a qualified buyer.  The story does not end here.  During the inspections, she guided us through the process to ensure that all went well.  We were guided through the closing process and the day of the closing was just a walk in the park.  We closed at Watson Title which was highly recommended.  As always, she was right, they were the best. They made us feel relaxed, but more importantly made the choosing run in a smooth and professional fashion.
In closing, I want to thank Karen for all of her efforts, even helping pack boxes and making sure we were happy.  I will and have recommended her services to friends and family.  It is not often you get the chance to work with a person who really cares. Thank you so much for everything. I have learned that you really do get what you pay for!!
Sincerely,

Mrs. And Mr. Martinussen
Sanford, Florida
---
Purchasing a home through Karen has been an extremely positive and exciting experience. She walked me through the process step-by-step while answering all of my questions in a timely fashion. She was eager to make the process as easy as possible and it truly was! Karen recommended a highly qualified home inspector to review my home prior to purchasing as well as a reputable mortgage lender. She has gone above and beyond my expectations. She gave me a sense of confidence, reassurance and guidance the whole way through. I highly recommend her to anyone in the market to buy or sell a home.
Nadia Mubarak
Sanford, FL
---

You have got to know when to hold them - know when to fold them. Second adulthood?  How were these issues important to us? We had made what we believed was our final choice - Hidden Lakes - Townhouse - 12 years later... Life Changed and we were faced with medical issues, age, blah, blah, blah, and we realized we needed to make changes to our lifestyle.

Along came our Angel of help & Hope- Karen- Re/Max Central Realty! - Her professional guidance, patience and being there whenever we called helped make our life changes so much easier! The Market said "no", wrong time to sell. She advised us to be realistic. We took her advice. She truly is a professional in her field! 

Bottom line: Our home Sold for CASH in less than 90 days! The Market says to expect at least double that time!
Carol & Bill Poreda
Osteen, FL
---
We listed our home with the discount brokerage firm Assist 2 Sell prior to hiring Karen. The discount firm had our home on the market for over 95 days with no offers and no contracts! My family and I were ready for a positive change so we called Karen with Remax Central Realty. Hiring Karen was the best decision we made! She was aggressive, consistent, valiant and proactive in marketing our home. Karen called us every week with feedback and updates on the showings. She brought us a full price offer in less than 30 days! We are elated with Karen's extraordinary professionalism, service, & negotiating skills. We highly recommend her!
HongYu Jiang
Lake Mary, FL
---
We hired Karen Arbutine with Remax to market and sell our home. We knew the market was very unstable and there were a great deal of homes for sale on the market. If any one could sell our home for the highest possible price in the shortest amount of time it would be Karen. She did an excellent job marketing and advertising the property.  She communicated with us on a weekly basis and gave us feed back on the market and what prospective clients were saying about our home. Consistent in every strategy, Karen sold our home in less than 66 days in this competitive market. We got within 1% of full list price for our home. The closing went perfect!  We highly recommend Karen to any of our friends and neighbors!
Tammy and Keith Canapp
Charlotte, NC
---
My daughter and I  had been contemplating selling our home in Berington Club for the past year and a half. We interviewed Karen for the position and knew right away that she was going to be the one that would get our home sold. She was the real estate agent that we wanted to represent us. We hired her to manage, market and sell our home. Our concerns were that the home would not sell in the time frame we had hoped it would... However, Karen sold our home in 3 weeks to a cash buyer which was way beyond our thoughts and expectations. The entire transaction was a very pleasant experience.
Wilma Miller & Karen Thompson
Helena, AL
 
---
Prior to selling our home, we did research on realtors who have a strong background as well as a proven track record of sales in Lakewood at the Crossings. Karen Arbutine stood out as well as she came highly recommended to us. We hired her to sell our 2 bedroom / 2 bath home. Even though the market has slowed down considerably we felt Karen was the best person for the job. Our selling experience was a delight with her on our side. She kept in touch with us on a regular basis communicating effectively her strategy to sell our home. The marketing plan she  offered was very effective and brought us many showings followed by a strong offer! We highly recommend Ms. Arbutine to anyone buying or selling a home!
Sam and Kim Jeon
Lake Mary, FL
---
We listed our home with a previous Realtor prior to hiring Karen. Our experience with the previous Realtor was extremely negative and stressful, with no offers. We hired Karen who came highly recommended by a co-worker. This was the BEST move we made! Karen brought us 2 offers in 28 day! Her marketing ideas, advertising & negotiating skills are brilliant. She went over and above in service and performance. Watson Realty has a real jewel working for them.
Lake Mary, FL
---
We listed our home with a discount broker prior to meeting Karen. We had a couple of showings in 90 days and virtually no advertising. After expiration we called Karen who came highly recommended. Hiring her was the BEST decision we have ever made. She advertised our home heavily. We had 3 good offers within 31 days! Karen guided us through the whole process and made us feel like we were her only client. She is a true professional who cares about her clients!
Mt. Dora, FL
---
Karen made it happen! We had no idea our home would sell this fast! The process was very smooth and easy. We highly recommend Karen as a realtor!
Lake Mary, FL
---
Rick,
I would like to take this opportunity to thank you and everyone at your Remax Office for doing such an oustanding job for me. From the start,you made me feel welcome and went out of your way during the tranactions to be helpful. You were always promp returning calls and did not hesitate for 1 minute to contact the necessary people to make the sale easier. It was a pleasure working with you. I highly recommend your company to anyone wishing to buy or sell Real Estate. I am now comfortably settled in my new home.
Regards,
Shy Riyasat
---
Rick,
We wanted to thank you for your assistance, professionalism and patience with our recent home purchase. You made looking for a home a positive experience. Your thorough knowledge and understanding of real estate is so greatly appreciated. We have your business cards and will certainly refer you to anyone looking for a home or mortgage broker.
Thanks again!
Sincerely,
Jamie M. Roy
---
---
Karen,
We are so fortunate we chose you as our Realtor last summer to handle the sale of our late fathers estate home.

As a family we have been struggling through many things since my father passed. You have made this huge hurdle a lot easier for our family. You are always professional, fair, hardworking, trustworthy and caring each and every stop of the way!

We value your professionalism as a Realtor and our friendship. You have my recommendation if anyone is considering a Realtor, we would definitely refer you anytime.
Thanks again!
Sincerely,
Mary and The Lichter Family.
Lake Mary, FL./strong>
---